Even if you are not the one responsible for mobile app performance, there is still a lot you should understand about this side of a business. MMP stands for "Mobile Measurement Partner". The purpose of this is to help mobile marketers understand what medium performs the best, how to improve the customer experience, and in most cases provides app owners with fraud prevention. This is typically accomplished via the implementation of a software development kit (SDK) which allows the measurement partner to collect signals around viewability, time in view, non-human traffic, and user behaviours (such as click-throughs, installs, and purchases). 
You are probably wondering why would anyone pay for another 3rd party platform when there is Google analytics. While GA is a necessity when it comes to the analytics of all kinds, to use 100% of its potential requires a lot of experience and advanced knowledge even then it won't provide all the benefits of an MMP. The greatest example is extremely important for data relevance. Many MMPs provide this service, unlike GA. The best option would be to take the best of both worlds.
In this post, we'll cover the most important topics around Mobile Measurement Partners in order to help you understand which platform and what features suit your app.
What is mobile attribution? 
To understand how MMPs can help us leverage app success, we need to understand what mobile attribution tools do. Mobile attribution tools (or MMPs)  help us create a whole picture of app advertising. They stand between all marketing tools and the app, helping us to spot the best performing conversion sources and thus, improving the overall app marketing performance. To collect data from different sources, attribution tools typically use some of the tracking mechanisms based on cookies, tags or UTMs. Attribution tools usually use multi-touch attribution, which provides a broader look at the customer journey as a whole. To learn more about multi-touch attribution, last-touch attribution, and first-touch attribution, visit this page. 
Why is this important?
Mobile app performance is a complex job that enables us to incorporate internal and external factors of app success. Internally, it should provide enough data to know what to improve, fix, test or remove from the app. User behavior, if tracked properly, can tell us all of that, so every minute invested in analytics is worth our time. With that being said, attribution tools do the job for us, removing the risk of having low performing features or pages. 
On the other hand, externally, we need to know where our ad budget is going and how it is spent. For example, if we invest 10K dollars in an ad campaign and as a result get 50K app installs, this is great. But, what would happen if we can't tell which medium was responsible for that or did any users come from a set of blog posts, or if those users are real? All of these, plus many more insights will be available thanks to usage of MMPs. 
Deep linking 
The concept of deep linking has been around for years now. The first appearance in the media was around 2006 to describe the growing practice of providing Google with visibility into pages beyond the home page. According to AppsFlyer, deep linking is: 
The term "deep link" has come to mean the routes to specific spots on websites and to a native application via a link. A version of the term, called a "mobile deep link," is a link that contains all the information needed to take a user directly into an app or a particular location within an app instead of just launching the app's home page.
Deep linking is one of the most important tools for driving and tracking user engagement, as it could increase in-app purchase rates by up to 40%, according to Kochava. This is why every app should incorporate in the growth strategy from the beginning. 
What is Fraud Prevention?
Fraud is a scam that involves fraudsters on the one side and their victims (app users) on the other side. Fraudsters may trick app users into making bank transfers to them, instead to relevant companies or partners. They may pose as someone from your bank, or another trusted organisation, claim your funds have been exposed to fraudulent activities and say you need to move your money to a "safe" account. Other types of fraud can be sending shady traffic to our app, that has the only purpose of wasting ad budget and making your data dirty. Today, it is not enough to simply detect fraud. Instead, fraud prevention should work in real time, protecting your entire mobile acquisition strategy. 
There are a few criteria to understand before you decide which MMP to try:  
First, think of the number of integrations you need to make. It depends on many factors such as type of the app, or how complicated your user acquisition is, but the minimum it should have is the API that integrates with SEO tools, Ad platforms and CRM. 

Second, pay attention to how intuitive the platform is. If that requires technical work, make sure your team can be at disposal. Otherwise, you may end up frustrated with poor results and waste of time. 

Third, beware of the security measures and ad fraud protection policies the platform offe. As you may read our text above, you probably noticed how serious problem fraud can be. Invest some time for the research and make sure your native app gets relevant and well reserved attention. 

Last but not least, find out what kind of devices the MMP you choose covers. If you're interested in only mobile device performance, look for tools that cover only mobile, but if you want to integrate the broader spectrum of advertising tools for your native app, you may search for attribution tools that can support both mobile and desktop devices, and even TVs. 
Now, let's see what are five leading MMPs that you can consider using for your app performance.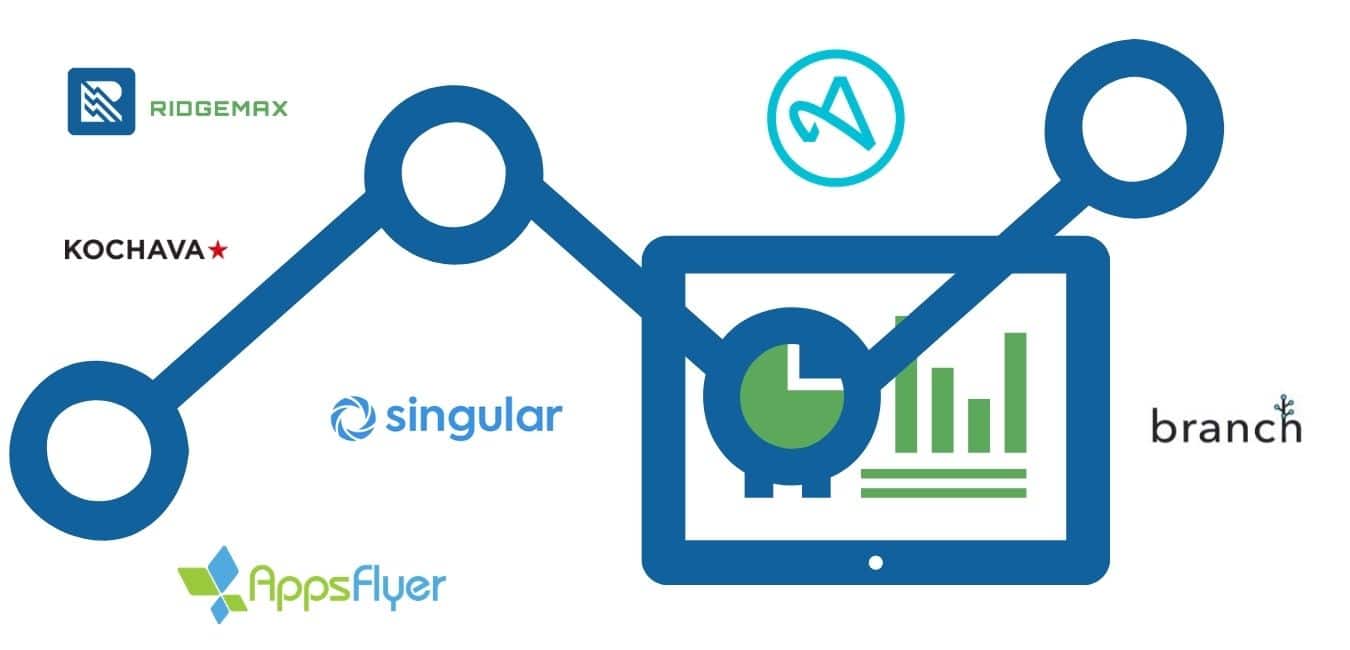 Adjust
Adjust is a mobile attribution and analytics company. With some of the most advanced features for Fraud Prevention Suite and Unbotify, Adjust is one of the leaders for mobile measurement on the market. Unlike other platforms that use 3rd party cloud systems, Adjust has built their own cloud, which makes them even more secure and thus, powerful. 
Adjust covers: 
Mobile,

Mobile web,

In-app ads, 

TV, 

OTT and 

Organics
Main functionalities: 
Real-time data

In-the-moment fraud prevention

Privacy compliance

Unlimited API requests
Kochava
Kochava is another powerful tool that helps mobile marketers grow quickly, with a mobile attribution tool, an analytics tool, and a data management platform (DMP) all in one. Besides many available features, it offers free plans for those willing to give the access to data, which makes them attractive to indie developers. 
Kochava's main functionalities:
Mobile-only

Ad Fraud Protection

Attributes credit across all digital and offline sources

Attributes install without their SDK needing to be loaded in-app
Singular
Singular is aimed at large companies which unifies marketing campaign data and attribution data in one place. Singular has developed over 1000 data connectors to get data from different partners, whether through the partner's API, dashboard, email reports, or other technologies. It covers large industry verticals: Gaming, Media, Travel, Retail, Music, Finance, Productivity
Main functionalities:
Conversion optimisation

Has mobile and web cost aggregation

Acts as a single source of truth for marketing campaigns
AppsFlyer
AppsFlyer's products are designed with security and privacy at the top priority in early development stages. It provides flexible reporting, deep analytics and performance metrics for businesses of all sizes.
Main functionalities:
Enables universal deep linking, fingerprinting, and secure postbacks

Provides best in class security features

Great for over the one thousand mobile installs per month
Branch
Branch is the latest on the market, but the one with the most innovative features. Unlike its competitors, it provides influencers analytics and is great for ecommerce and service verticals. 
Branch supports:
Deep links 

Paid acquisition and re-engagement campaigns,

Referral programs, 

Content sharing, 

Deep linked emails, 

Smart banners, 

Custom user onboarding, and more

People-based attribution for mobile and web acquisitions
Conclusion
As you can see, the right choice is influenced by many factors such as app type, number of users, budget, number of people working in a team, and long-term goals. Your app is specifically designed to solve a certain problem, so are the attribution tools. Even though they offer some of the same functionalities, the pricing and additional tools can make a huge difference